Sustainability, Top News
Marsden Centre Wins Eco Business Award for Sustainability Practices
05 July, 2022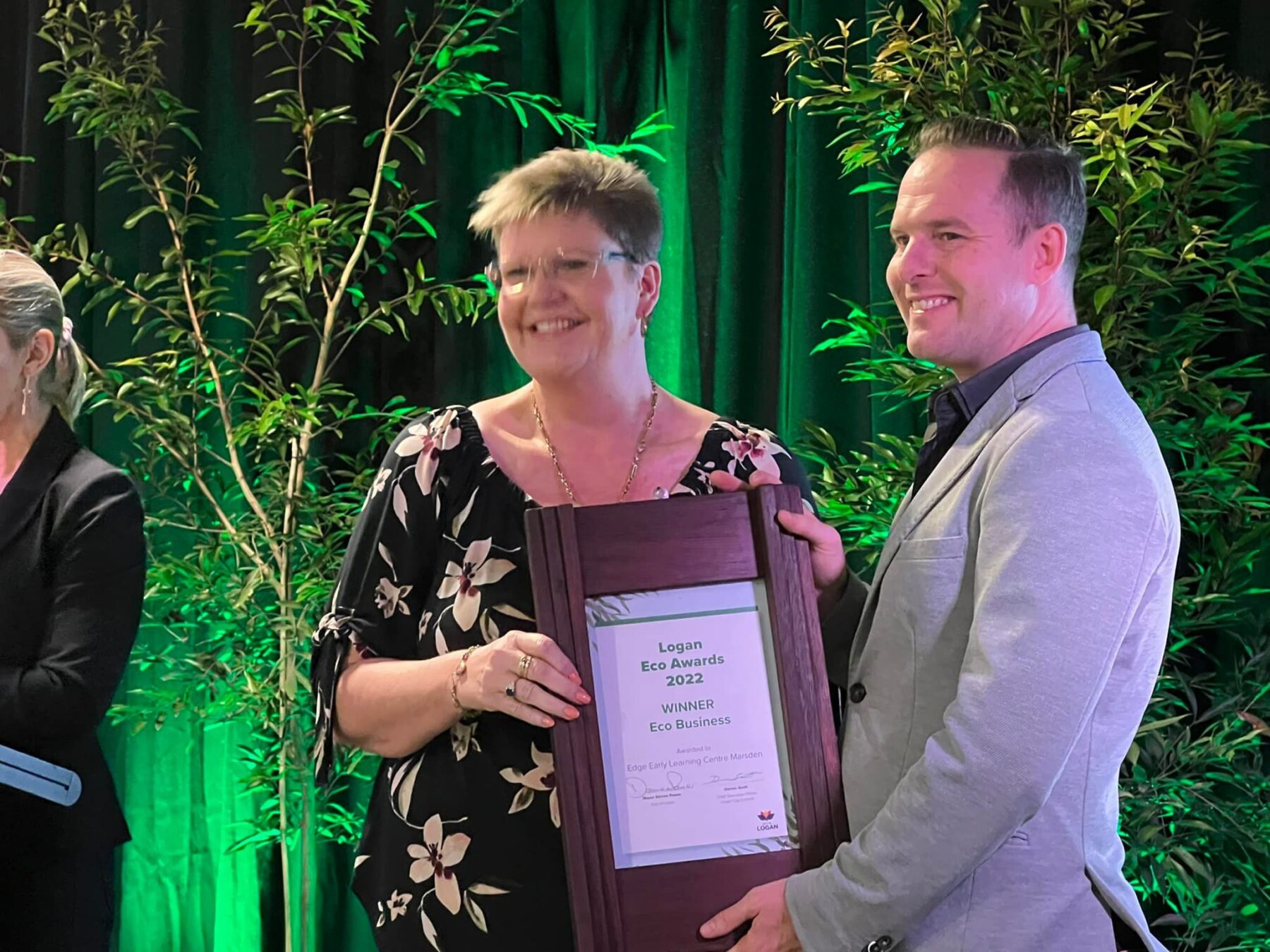 Edge Early Learning Marsden was awarded the Eco Business Award at the recent City of Logan's 2022 Eco Awards Presentation, sharing in the top spot for its leading sustainability practices.
Well-deserved recognition for the centre, they were highlighted for a focus on recycling, water conservation and educating children on environmental issues, through a demonstration of leadership in this space and undertaking initiatives that benefit the environment.
Since opening its doors to the Logan community 10 months ago, EEL Marsden's Centre Director Simone Miles and her team of Educators have been passionate about the importance of sustainability with initiatives embedded daily into the centre's routine.
"If we teach this generation how to care for the environment, grow food, build with natural resources, conserve water, and recycle all we can, then we have done an amazing thing for their future and the world they will be living in," said Simone.
"We collect corks and lids for provocations and learning experiences, make recycled paper, propagate plants and cuttings in recycled coffee jars, learn to tend to our onsite vegetable gardens and harvest produce, and so much more."
"Being awarded the Eco Business Award is a wonderful testament to the passion and focus demonstrated by our incredible team of eco warriors at the centre, and we couldn't be more thrilled to see that our work is making a difference," she added.
Edge Early Learning CEO Annie Bryce said the win bolsters the company's mission is to pave a brighter, more sustainable future for children in their care.
"We are so proud of Simone and the Marsden centre team for playing their part in developing a better future for our children and being recognised for their fantastic efforts in driving the important message of looking after our environment forward."
EEL places a strong focus on sustainability practices, implementing initiatives across its centres including switching to solar power panels, utilising environmentally friendly cleaning products, biodegradable bamboo nappies and wipes, installing recycle stations and vegetable gardens.
In the classroom, children are taught to be responsible for what is thrown away by using recycle stations and learning about the different types of recyclable waste. When outdoors, EEL encourages interaction with the natural environment by learning about native flora and fauna and teaching children how they can help preserve the natural wonders of our land.
A huge well done to Simone and the Edge Early Learning Marsden team!
---